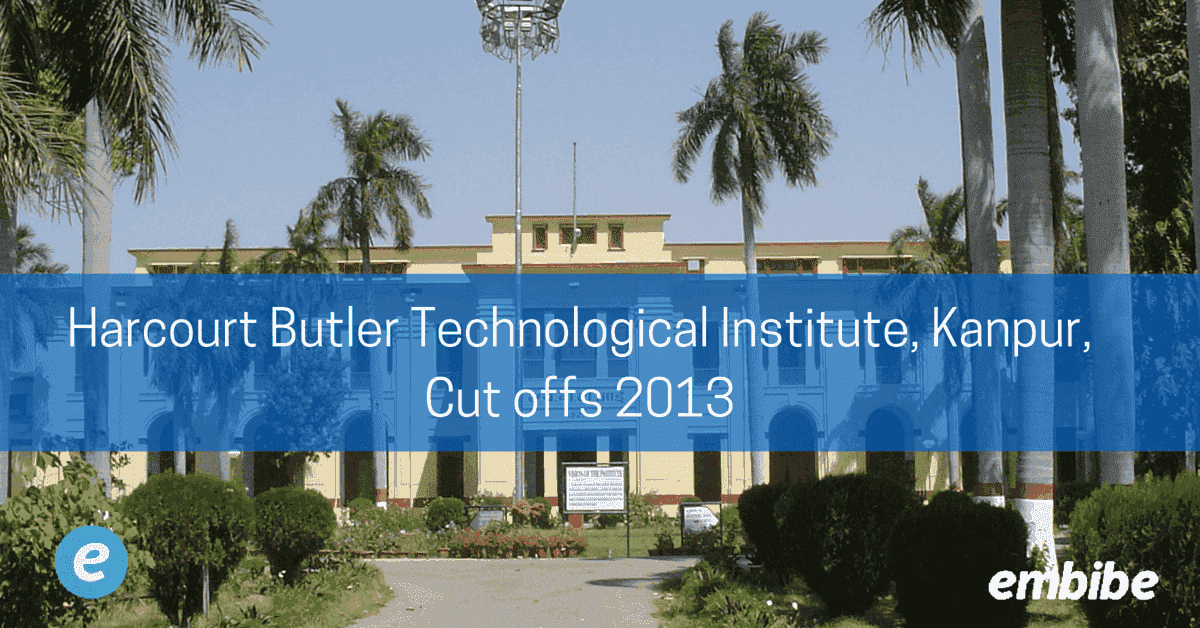 Harcourt Butler Technological Institute, HBTI, Kanpur Cut off 2013

| Branch/Course Name | Allotted Category | Opening Rank | Closing Rank |
| --- | --- | --- | --- |
| Bio Chemical Engineering | GNGL | 2261 | 3918 |
| | SCOP | 14120 | 18926 |
| | BCOP | 3978 | 5099 |
| | SCGL | 19456 | 29770 |
| | STOP | 42751 | 42751 |
| | BCGL | 3484 | 3623 |
| | GNAF | 3343 | 3343 |
| | GNOP | 1108 | 3020 |
| Bio Chemical Engineering (Fee Waiver Seat ) | FWOP | 1124 | 1124 |
| Chemical Engineering | GNAF | 1576 | 1576 |
| | GNOP | 687 | 1096 |
| | BCOP | 1075 | 1727 |
| | GNPH | 30493 | 30493 |
| | SCPH | 74663 | 74663 |
| | BCGL | 2939 | 3417 |
| | GNGL | 1084 | 1217 |
| | SCGL | 12089 | 14357 |
| | SCOP | 6812 | 10377 |
| | BCAF | 1950 | 1950 |
| | STOP | 17298 | 17298 |
| Chemical Engineering (Fee Waiver Seat ) | FWOP | 191 | 468 |
| Civil Engineering | GNAF | 1619 | 1619 |
| | GNOP | 665 | 937 |
| | BCOP | 684 | 988 |
| | GNFF | 3822 | 3822 |
| | SCFF | 48455 | 48455 |
| | SCGL | 9232 | 9232 |
| | BCAF | 1723 | 1723 |
| | BCPH | 26656 | 26656 |
| | SCOP | 2398 | 5634 |
| | BCGL | 3419 | 3419 |
| | GNGL | 1297 | 1326 |
| | STOP | 17115 | 17115 |
| Civil Engineering (Fee Waiver Seat ) | FWOP | 617 | 617 |
| Computer Science & Engg | BCGL | 870 | 1927 |
| | GNAF | 864 | 864 |
| | SCAF | 9067 | 9067 |
| | SCGL | 6617 | 9421 |
| | STOP | 15806 | 15806 |
| | BCAF | 1915 | 1915 |
| | GNGL | 262 | 583 |
| | SCOP | 3412 | 7762 |
| | BCOP | 390 | 1327 |
| | GNPH | 24848 | 24848 |
| | SCPH | 110031 | 110031 |
| | GNFF | 544 | 544 |
| | GNOP | 159 | 532 |
| Computer Science & Engg (Fee Waiver Seat ) | FWOP | 231 | 386 |
| Electrical Engineering | BCGL | 1066 | 2928 |
| | GNGL | 722 | 1070 |
| | SCOP | 4662 | 6321 |
| | BCFF | 5288 | 5288 |
| | GNOP | 255 | 716 |
| | GNAF | 1189 | 1189 |
| | BCOP | 899 | 1214 |
| | GNPH | 27414 | 27414 |
| | SCGL | 10674 | 10674 |
| | STGL | 10182 | 10182 |
| Electrical Engineering (Fee Waiver Seat ) | FWOP | 248 | 535 |
| Electronics Engineering | GNGL | 666 | 1054 |
| | SCOP | 5620 | 8038 |
| | SCGL | 6888 | 11529 |
| | BCOP | 981 | 1456 |
| | GNAF | 1133 | 1133 |
| | GNOP | 225 | 883 |
| | BCGL | 2059 | 3001 |
| | GNPH | 11484 | 11484 |
| | STOP | 11505 | 11505 |
| | BCAF | 1472 | 1472 |
| | GNFF | 4486 | 4486 |
| Electronics Engineering (Fee Waiver Seat ) | FWOP | 539 | 792 |
| Food Technology | BCOP | 3831 | 4742 |
| | SCAF | 38821 | 38821 |
| | SCGL | 24777 | 24777 |
| | SCOP | 11802 | 21608 |
| | GNAF | 4455 | 4455 |
| | GNOP | 1622 | 2442 |
| | BCGL | 5889 | 6220 |
| | GNGL | 1900 | 3316 |
| Food Technology (Fee Waiver Seat ) | FWOP | 2463 | 2463 |
| Information Technology | SCOP | 5757 | 8459 |
| | STOP | 19687 | 19687 |
| | GNOP | 685 | 985 |
| | BCGL | 1266 | 2727 |
| | GNAF | 1190 | 1190 |
| | GNGL | 717 | 1168 |
| | SCFF | 69604 | 69604 |
| | SCGL | 11554 | 11554 |
| | BCOP | 1688 | 2054 |
| Information Technology (Fee Waiver Seat ) | FWOP | 656 | 656 |
| Leather Technology | BCGL | 6547 | 6547 |
| | BCOP | 3876 | 5087 |
| | SCOP | 12716 | 18814 |
| | GNGL | 4183 | 4788 |
| | GNPH | 74548 | 74548 |
| | GNOP | 3038 | 3696 |
| | SCGL | 42338 | 42338 |
| Leather Technology (Fee Waiver Seat ) | FWOP | 1344 | 1344 |
| Mechanical Engineering | BCGL | 1553 | 1914 |
| | GNAF | 708 | 708 |
| | GNPH | 14426 | 14426 |
| | SCPH | 118978 | 118978 |
| | GNOP | 38 | 594 |
| | GNFF | 820 | 820 |
| | STOP | 14955 | 14955 |
| | BCAF | 1437 | 1437 |
| | GNGL | 526 | 1291 |
| | SCOP | 2412 | 6373 |
| | SCAF | 10184 | 10184 |
| | SCGL | 6779 | 10772 |
| | BCOP | 459 | 872 |
| Mechanical Engineering (Fee Waiver Seat ) | FWOP | 34 | 197 |
| Oil Technology | SCGL | 24954 | 28647 |
| | BCAF | 4220 | 4220 |
| | BCOP | 2061 | 3309 |
| | GNAF | 2085 | 2085 |
| | GNOP | 1173 | 2318 |
| | BCGL | 6961 | 6961 |
| | SCOP | 9740 | 19144 |
| | GNGL | 2893 | 3331 |
| Oil Technology (Fee Waiver Seat ) | FWOP | 1829 | 2078 |
| Paint Technology | GNFF | 897 | 897 |
| | GNOP | 1102 | 1700 |
| | BCGL | 3868 | 4647 |
| | GNGL | 1470 | 1555 |
| | BCOP | 1878 | 2553 |
| | GNAF | 3229 | 3229 |
| | BCFF | 32331 | 32331 |
| | SCAF | 38363 | 38363 |
| | SCGL | 23062 | 23062 |
| | SCOP | 14434 | 18505 |
| Paint Technology (Fee Waiver Seat ) | FWOP | 745 | 1238 |
| Plastic Technology | GNAF | 4137 | 4137 |
| | GNOP | 1836 | 2675 |
| | STGL | 60981 | 60981 |
| | BCGL | 4349 | 4349 |
| | BCOP | 3493 | 4639 |
| | SCAF | 50929 | 50929 |
| | SCGL | 25998 | 25998 |
| | SCOP | 15659 | 17292 |
| | BCPH | 51354 | 51354 |
| | GNGL | 3307 | 4148 |
| Plastic Technology (Fee Waiver Seat ) | FWOP | 1710 | 1710 |
[cta id="96834″]
GN-General
SC-Scheduled Caste
ST-Scheduled Tribe
BC-Backward Class
GL-Girl
OP-Open
FW-Fee Waiver
While preparing for JEE is no walk in the park, we at Embibe pride ourselves at revolutionizing the way students learn, prepare and test themselves for JEE Main and JEE Advanced assisted with data that helps students' score improve by over 23% in just one test and score predictability with over 92% accuracy. Several students have who have used Embibe are now studying in some of the top colleges across the country.
You may also want to check out the secret methods used by toppers to clear JEE. Did we also mention, that unlike, the other institutes  mentioned in this article Embibe is 100% free for life?
No matter how you choose to study we wish you the best of luck to go out and crack the exam!
140
Views