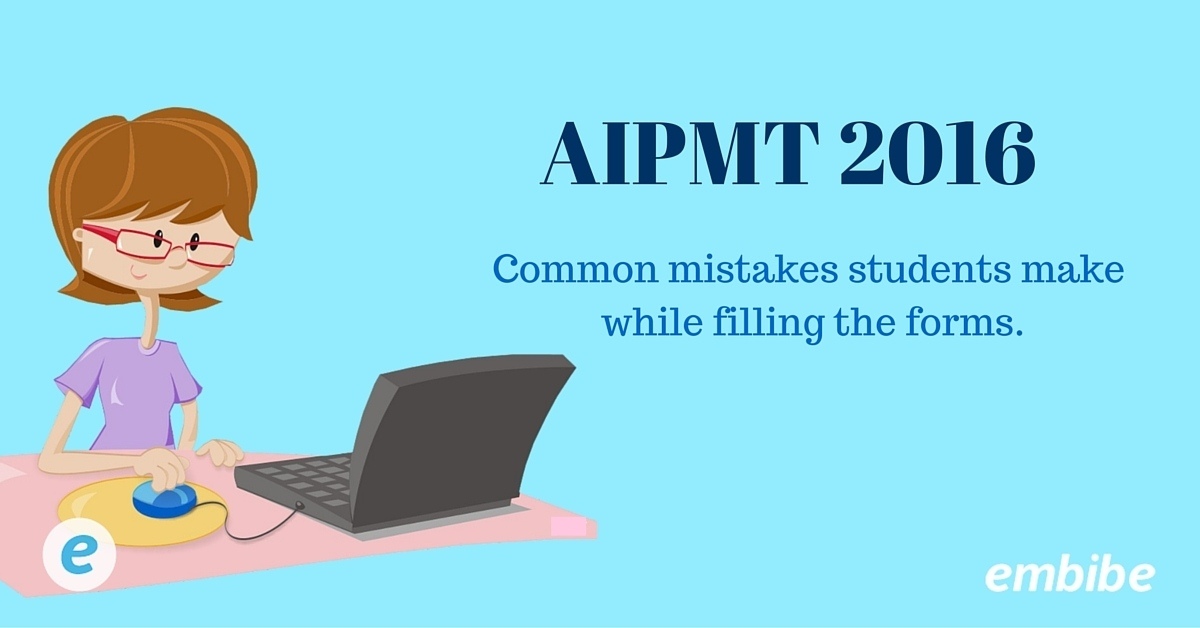 The last date for filling the AIPMT forms is nearing its end. The last date for filling the AIPMT form and making the payment without late fees is 12th January 2016. So if you have made any mistake in the form, then don't worry, since there are other students who may have made the same mistake. Only remember one thing that it won't affect your AIPMT exam or college admission.
In case, you have made any mistake you need to first contact the AIPMT officials by sending them a mail on aipmt.nic.in/aipmt/contact.aspx explaining the situation and asking for their guidance on how to proceed. But if the mistake is not too important, AIPMT allows the same without change. Otherwise, you can ask the AIPMT officials who will help you to change the details.
Here are some common mistakes made by students:
Using the wrong qualification code:
Click on the above link to read about the qualification codes so you avoid any kind of mistakes. But in case you end up using code 02/03 incorrectly you need not worry, as it will be understood  in the rest of the details that you fill in the form.
If there is a spelling mistake in your name or your parents name:
In this case, you need to send an email to AIPMT as soon as you can and get it changed. Remember the name has to be exactly the same as in your 12th certificate.
If you give the wrong fingerprint (as in the wrong finger):
In some cases, this won't be a problem, as AIPMT has been lenient about using a different finger impression. But to be on the safer side send an email to AIPMT explaining the situation and the right fingerprint as an attachment (You need to send a scanned/ digital image of your right-hand index finger. It should be in the .jpg format 3Kb to 20 Kb ).
Photograph with the wrong date mentioned:
Not many students make this mistake, but in some cases even if the photo is older, AIPMT will allow it. But still you need to take a photo which should be the latest on with a recent date of when you clicked the picture and send an email to AIPMT explaining your situation and asking for what to do. (Passport size photograph 10Kb up to 100 Kb file size is acceptable.)
So if you've made any of these mistakes, don't worry at all since AIPMT officials will consider but try and avoid any such mistake. Since it may make you nervous, remember there are other students who make mistakes too and there is always a way out. As you Refer to the FAQ list to clear all your doubts. To ensure you fill in your details precisely without any error you can go through steps to fill the AIPMT form article. This will guide you with all the instructions you nee to know while filling the form.
Some of the recent queries about the application form:
With Embibe, you can feel safe as we will help and guide you at every step including your preparation for the exam. Do not worry at all since the tests and practice at Embibe will help you get better and perfect and will help you improve by 29% of your previous score. So improve with every test you give on Embibe do not give up thing positive and focus on your goal at all times.
84
Views