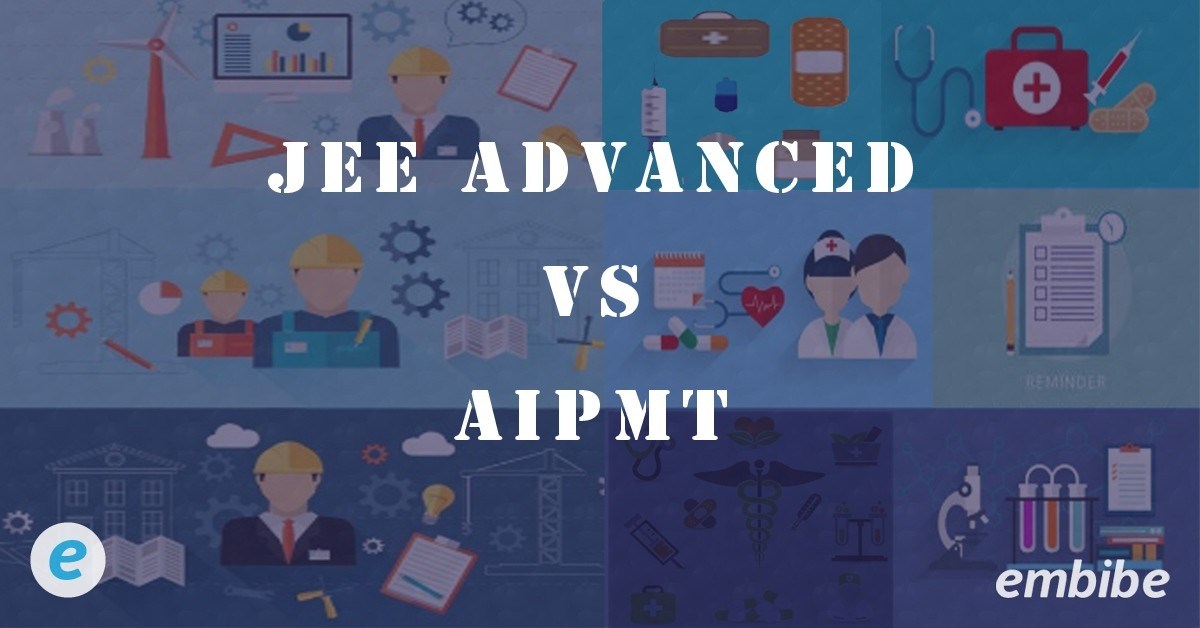 Introduction
JEE Advanced and NEET are the two well-renowned and recognized exams. These exams are all India common engineering and medical entrance examinations which are conducted for admissions in various engineering and medical colleges respectively all over the country. Since JEE Advanced is for engineering and NEET is for medical, these exams are way different from each other. However, we have brought together a few points in order to help you have a comparative understanding of these two exams. Based on these few points, we will help you decide and understand which exam is more difficult.
JEE Advanced 
AIPMT

Preparation time:

 2 Years

1-year maximum or minimum of 6months is required

Paper pattern:

Lot of numerically challenging problems and comparatively less theory

Lot of theories and comparatively fewer numerical problems

Skill set:

Evaluation based (Calculative)

Memory-based(Theoretical)

The number of questions to be solved in 3 hours:

60 questions

 180 questions

Total marks:

504 marks (For 2015 as it keeps changing)

 720 (Fixed)

The number of candidates appeared for the exam in 2015:

 1,17,238 students.

 4,22,859 students ( appeared for retest 2015 from 6,32,625 who had taken the May 3 test)

The number of candidates qualified:

26, 456 students.

 18,610. (merit and wait list)(MBBS)

The ratio of the students

who qualified in the test:

4 out of every 90 students qualify the JEE Advanced exam.

4 out of every 90 students qualify the exam, but this includes only MBBS students and not BDS students.

The total number of seats and colleges:

The number of seats for IIT (Exam: JEE Main+JEE Advanced) is 9292 seats ( approx) in 19 colleges across India.

According to the Medical Council of India (MCI), there are around 21,373 MBBS seats with 176 MBBS colleges in India and 253 seats for BDS.

Difficulty level:

High

Average (comparatively).
Experts Opinion:

According to Prof. Anwar Sheikh, considering the vastness of the subject, NEET students have a lot to remember whereas JEE students require more of evaluation and understanding. Basically, both these examinations are difficult. Comparing these two exams on the basis of their difficulty level is tricky because Engineering and Medical are two entirely different fields. Students comparing these two entrance examinations to find which stream is easier need to know that whether or not a particular entrance examination is difficult should not matter if you really want to pursue a field. Nevertheless, if you look into the paper pattern of JEE Advanced, it's tougher as compared to NEET.
960
Views