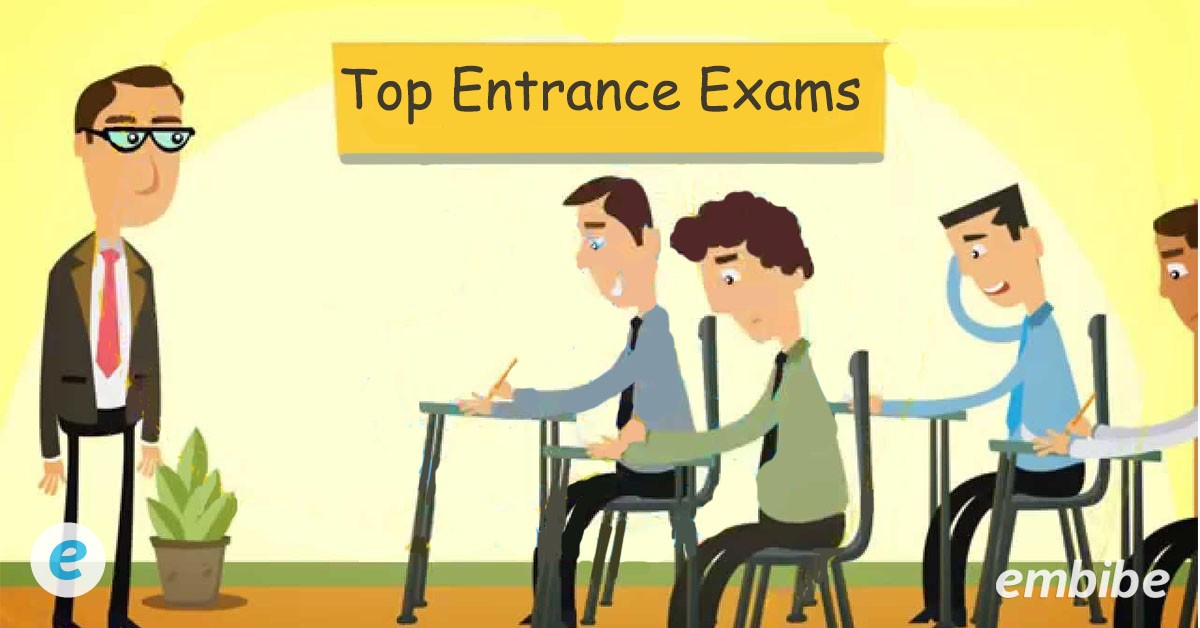 Many students, especially those who are passionate about technology, machines and research, pursue engineering and become an engineer. But to become an engineer, you need to give certain entrance exams. Below listed are the top engineering entrance exams for 2016-2017:
National Level Exams

Popular Name 
Full Name (click to know about the exam)
Courses offered
JEE Main
Joint Entrance Examination Main
 B.E., B.Tech., B.Pharm., B. Arch., etc.
JEE Advanced
Indian Institutes of Technology Joint Entrance Examination
 B. Tech, B.Pharm., B. Des., B. Arch., etc
BITSAT
Birla Institute of Technology and Science Admission Test

 B.E., B.Tech, B PHARM etc

ENAT
EPSI National Admission Test
 B.tech, BDS, BPT, BBA, B.Sc, B.Ed, LLB, fashion designing,  E-PEd, nursing, BJMC, BIS, b. pharm, etc
VITEEE
Vellore Institute of Technology Engineering Entrance Exam
 B.Tech
NAT
National Admission Test
 B Tech
PACET
Planning and Architecture Common Entrance Test
 B.Tech
ATIT
Admission Test for ICFAI Science and Technology
 B.Tech.
ISAT
IIST Admission Test
 B. Tech
MERI Entrance Exam
Marine Engineering & Research Institute Entrance Exam
 BE
AMIE
Associate Membership of Institution of Engineers
 B.E/B.Tech
NEAT
National Engineering Aptitude Test
 BE/ B.Tech
NATA
National Aptitude Test in Architecture
 BE/B.Tech
State Level Exam

Popular Name
Full Name ( degree offered B.E.)
MHTCET
Maharashtra's Common Entrance Test
KCET
Karnataka Common Entrance Test
TNEA
Tamil Nadu Engineering Admissions
UPSEE
Uttar Pradesh State Entrance Exam
COMEDK
Consortium of Medical, Engineering and Dental Colleges of Karnataka
EAMCET
Engineering, Agriculture and Medicine Common Entrance Test
KEAM
Kerala Engineering Architecture Medical Examination
Assam JAT
Assam Joint Admission Test
Karnataka PGCET
Karnataka Post Graduate Common Entrance Test
CENTAC JET
Centralised Admission Committee Joint Entrance Test Pondicherry
Bihar CET
Bihar Common Entrance Test
KRLMPCA CET
Karnataka Religious & Linguistic Minority Professional Colleges Association Common Entrance Test
BPEE CET
Jammu and Kashmir Board of Professional Entrance Examinations Common Entrance Test
Punjab CET
Punjab Technical University Combined Entrance Test
Orissa JEE
Orissa Joint Entrance Examination
RPET
Rajasthan Pre Engineering Test
MP PET
Madhya Pradesh Professional examination Test
WB JEE
West Bengal Joint Entrance Examinations Board
IPU CET
Guru Gobind Singh Indraprastha University Common Entrance Test
CPET
Combined Pre-Entrance Test
PJET
Puducherry Joint Entrance Test
To prepare for the JEE, BITSAT or CET you can start practice on Embibe. Embibe provides plenty of practice, tests and detailed feedback analysis with which you will be able to improve your score by 29%. Mock tests on Embibe provide a student with detailed analysis with the help of deep data, which enables a student to exactly identify his strengths and weaknesses. Working on the strengths a student can achieve perfection in those topics and working on the weaknesses a student can minimize the loss.
[cta id="32640″ vid="0″]
188
Views